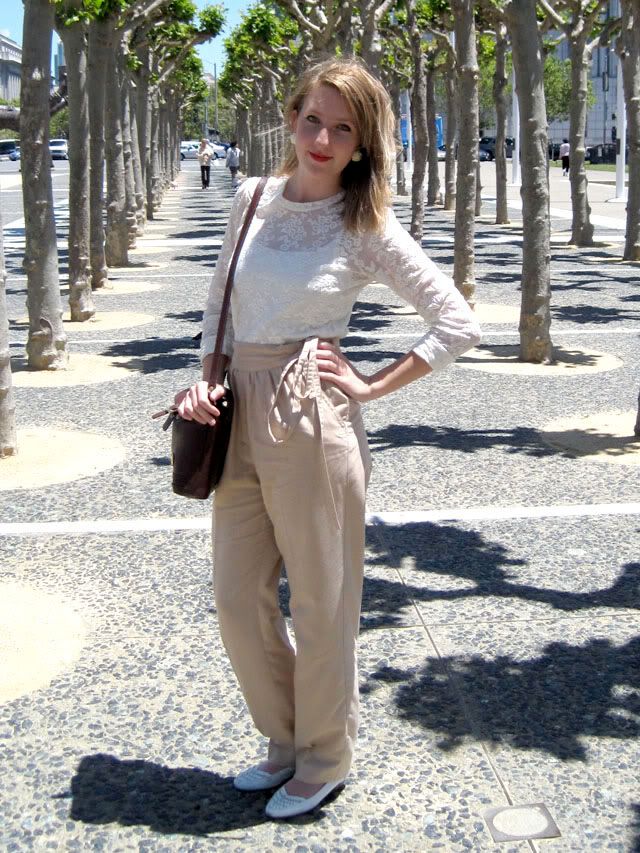 Thrifted lace, pants, shoes, satchel; AA tights; f21 earrings; Nars lip colour

This is the ultimate thrift outfit. That sounds so snobby and dumb but these pieces are a few of my favorite thrift finds.
I found the long sleeve lace tee at Thriftown on Mission Street.
The high-waisted pants were a treasure from Wasteland. As were the flats (gift from my sister).
I really love this outfit, as "outdated" and "90's mommy" it may be.
It is more important to feel great and love what you're wearing than dress to impress your society and/or peers. That's the beauty behind fashion. You are out to impress yourself. I am constantly challenging myself to create looks that inspired me.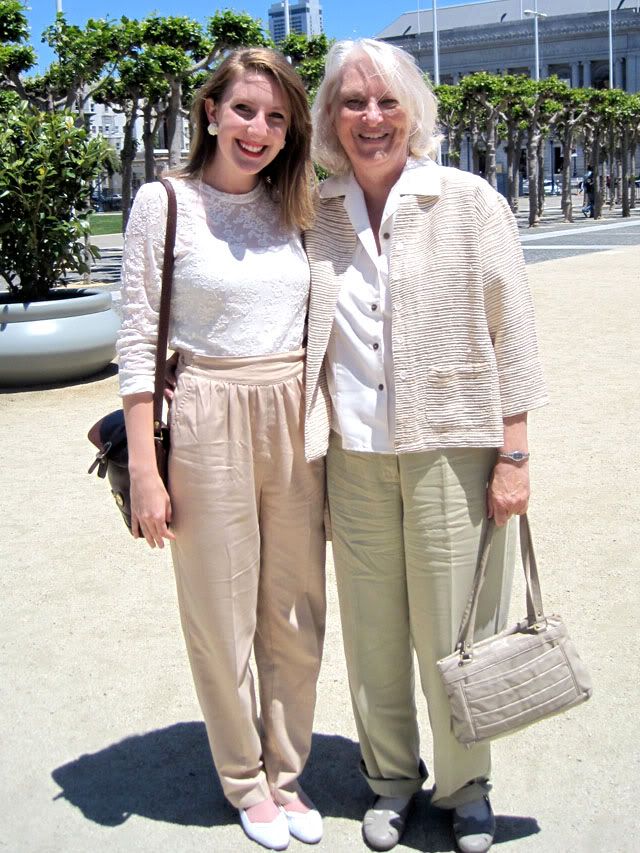 I bought tickets to see Wicked with my ma for Mother's Day. We celebrated rather late but with finals and whatnot, the timing was perfect. My mother and I made a real trip out of it. We rummaged through her closet and picked this nice ensemble for her to wear. She doesn't go "out on the town" very often so we got quite giddy putting outfits together.
When I look at this picture, I see that my mother has really influenced my personal style. Penny loafers, linen pants, button-up shirts, the floral fabric she uses for quilting.. her taste is reflected in my style. I used to hate to admit that she influenced me, but now I am happy to say it! My mom is one of my best friends! She is cute and dainty and the most patient and valuable shopping buddy.
Go thank your mom for her fashion advice! Whether she used to your buy clothes for you (boys), or lay out your outfits every day (girls), she helped you become the confident fashion-oriented person you are today!
Oh! If you haven't seen Wicked already, go see it at the Orpheum Theater in SF before it is too late- you won't regret it!