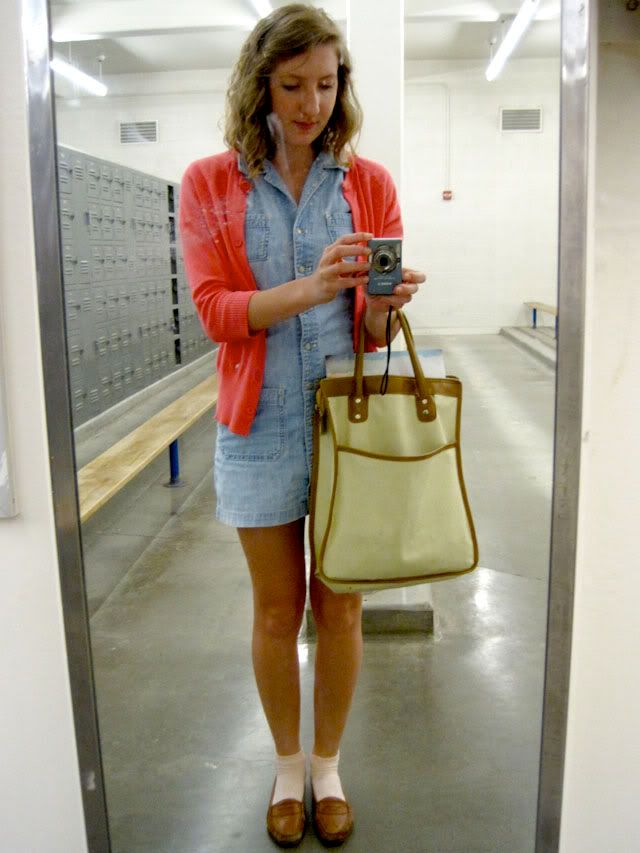 Thrifted loafers, DKNY denim jumper; AA socks; gap cardigan; hand-me-down schoolbag from my grandmother
I apologize for the myspacey picture. It was taken in the locker room at school before I changed clothes for dance rehearsal.
How shameful.
If socks weren't considered an accessory before, they should be now.
Tis the season for ankle and calf high socks.
I'm over the strappy sandal look- I'd rather have a high top tan line than a flip-flop one.
I make a point to avoid sandals. Really. I don't know why, it could be that I am disgusted at the sight of feet.
But either way, I have not met a strappy sandal that I liked.
This summer my footwear will consist of kittie-heels, loafers, oxfords and keds. All with socks.
Frilly socks, ankle socks, calf-high socks, knee-high socks. Most I have found at AA so far, and some Betsey ones at TJ Max :)