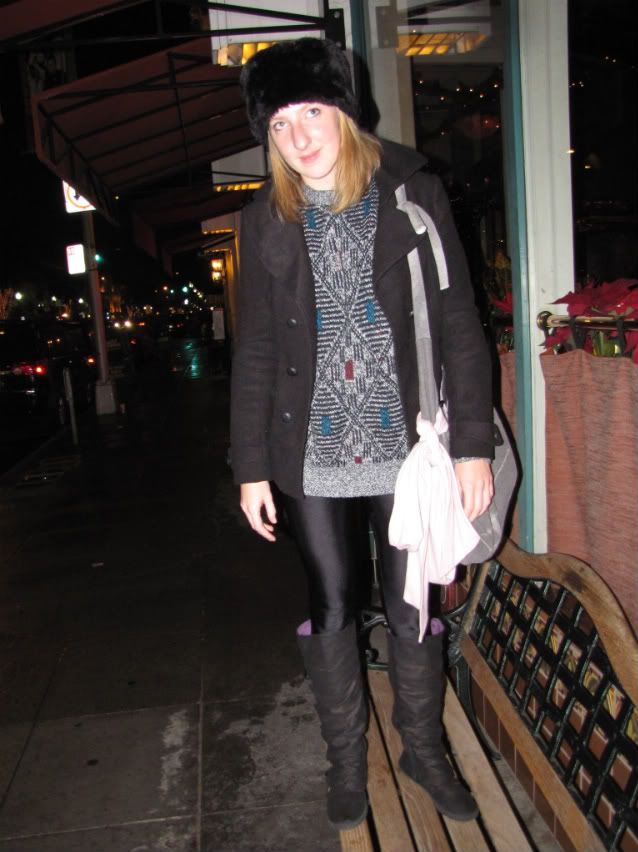 Rainy weather lately. I remember last year we had an entire month of rain. I'm on the lookout for cute rain boots. Any suggestions? These boots above are made of canvas. Warm in the weather... but not waterproof.
Finals are next week! Buuutttt I took a study break Friday night and went to sushi with some co-workers.
When I had to get ready, I had been hibernating in bed for a few hours, so getting dressed was super tough. Hence, the comfy sweater.
I originally got this sweater for an "
ugly sweater
" holiday party I hosted last year. I have been secretly in love with it ever since, and finally have the no-care-attitude to wear it in public. It's so comfortable!
I have been desperate for some faux fur in my life. Luckily I moseyed into Target and stumbled upon this cap. So satisfied! It was only $15. I like it because I can wear fur without looking too
Baby Phat
. A lot of people have been calling the cap nerdy or stupid or whatever- I don't care I love it and I'm warm! Seeing a pattern here?
BTW- Sorry my friend is such a poor photographer :P