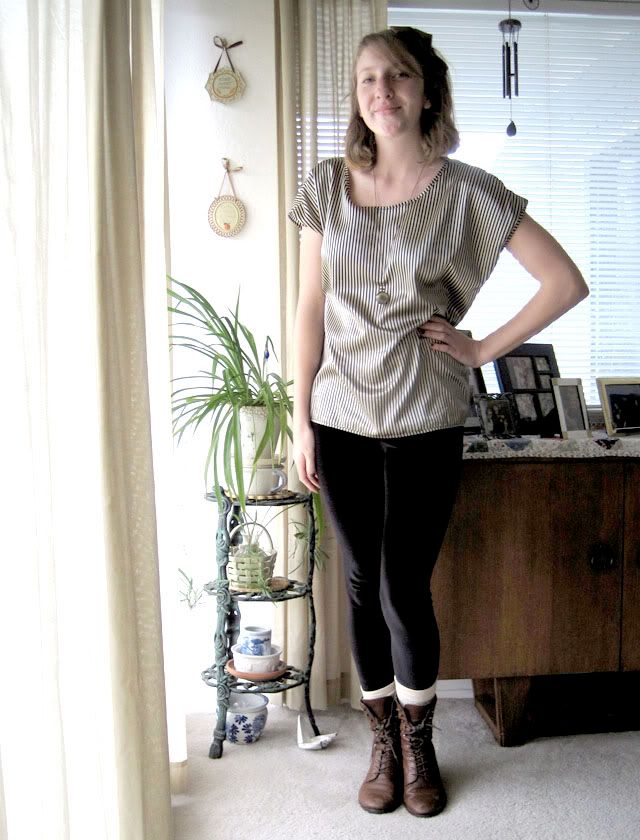 aa top, velvet leggings, opaque socks; f21 headband; ou pocket watch & boots
Rainy outside! Doesn't mean I have to look frumpy and be grumpy! Nope! I stayed warm in my velvet leggings and took the opportunity to read a book, bake some yummy cookies and surf the fashion blogosphere. Careful, these cookies are addicting-- you've been warned!!
Currently reading
The Female of the Species: Tales of Mystery and Suspense
by Joyce Carol Oats.
Vegan pumpkin chocolate chip cookie
recipe
2 cup brown sugar, firmly packed
4 cup all-purpose flour
2 teaspoon baking soda
2 teaspoon baking powder
2 teaspoon vanilla
2 cup canned pumpkin
3/4 cup vegetable oil
1 teaspoon each - cinnamon & nutmeg
1 teaspoon pumpkin pie spice
2 cups chocolate chips
Beat sugar, pumpkin, oil and vanilla.
Sift together dry ingredients. Stir into the pumpkin mixture until smooth.
Blend in chocolate chips
Drop by spoonfuls on lightly [vegetable] oiled baking sheet, and bake at 350°F for 12-15 minutes.
Serves: 5-6 dozen
Preparation time: 30 minutes
Next time I would try using half whole wheat flour and half regular.
So tasty! I ate about a dozen of them. Afraid I might have eaten them all, I brought them for my co-workers :)